January 2023 Newsletter
As you probably know by now, I've been paying lots of attention to the cycles of darkness and light this winter.
Back in November, I set the intention of befriending the darkness – not viewing it with dread, not avoiding it, but stepping out into it and reveling in its unique beauty. In December, the darkness deepened and I turned into even more of a creature of the night – at first because of my delightful night walks, and then because I caught Covid. For much of that month, my face barely saw the daylight. I took night walks more to avoid passing on Covid than to appreciate the night sky. The low stimulation of darkness settled over me, bringing my energy levels down with it, and I began to truly long for the light to return. Once January came around, I began to awaken slowly to a brightening world – to welcome the dawn. Throughout this month, I've sought out daytime walks and relished the colors around me. I've soaked up the energy of newness and possibility.
Looking back on that journey, I realize the importance of both the darkness and the light. This year was the first when I didn't dread the oncoming darkness, and indeed found it to hold an exhilarating beauty – but over time, my body and my spirit longed for, and needed, the light. And now, after almost a month of basking in the increased light and activity, I recognize the value of those quiet, low-energy days of December.
Within each year, these seasons replenish us without our even realizing it. The darker times lull us into rest and withdrawal – a time for rooting down, reflecting, and simply being. The brighter times coax us into action and productivity, growth and flowering. We need both the darkness and the light to flourish.
Within each day, too, the passage from day to night, and night to day, nourishes us. At night we settle into rest and sleep, the darkness notifying our bodies that it is time to slow down for a while. And then in the morning, we wake to the light of dawn which ushers us into our full, vibrant lives. We need both the darkness and the light to flourish.
When God created the day and the night, and called it good, was this a part of that genius? That we, and all creation, need both darkness and light? We need that cycle between low energy and high energy. We need that reprieve from productivity in the evening, and that boost of activity at dawn.
When we lose this balance, favoring one over the other, we lose sight of the wisdom of the cycles of darkness and light. The days are growing incrementally longer, and although I'm admittedly enjoying that, I also look forward to the darkening skies at night, the coziness of evening routines, the replenishment that darkness brings, and then… waking to the possibilities of dawn once morning comes again.
Have you ever noticed the cycles of darkness and light keeping you balanced, keeping you nourished, and replenishing you? How do both darkness and light bear gifts in your life? How do they connect you with that God-given wisdom that declares both darkness and light good?
Kiran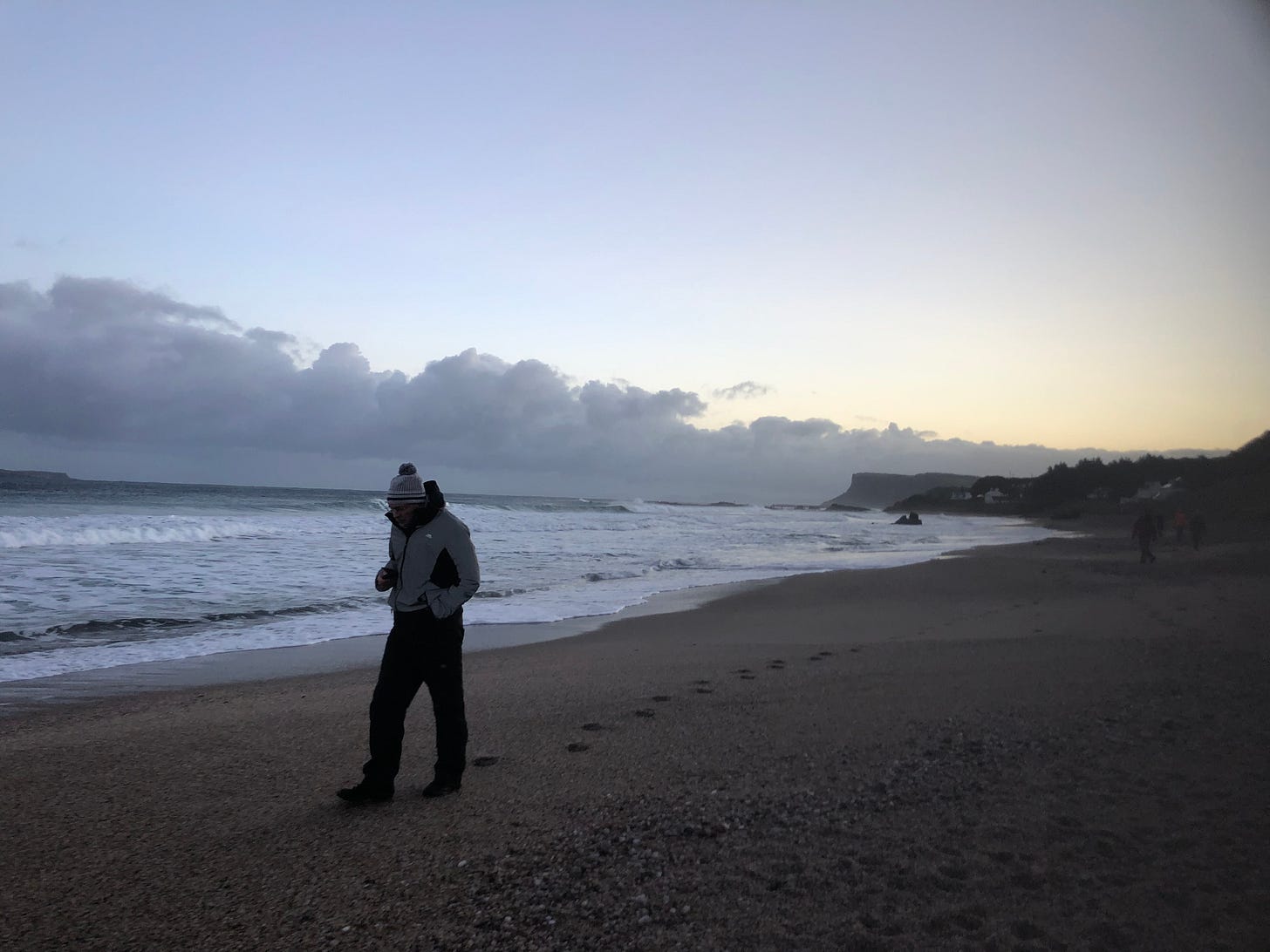 Spiritual Direction
Anamchara is the old Irish term for "Spiritual Director" – though in translation it means "friend of the soul." Though the term is often overused and misused, I love its implication that spiritual direction is about being a friend to the deepest parts of who we are. At its best, spiritual direction is a place where we feel most free to be ourselves, where we can find safety to share our journeys, and where we can listen for how God is calling us to flourish.
Individual Spiritual Direction
I am currently taking on new spiritual directees, if you are looking for an Anamcharato walk with you on your journey. Contact me at revkiran@gmail.com for a consultation appointment and information about fees.
*If you become a Founding Subscriber Member, you will receive three free spiritual direction sessions in thanks for your generosity. If you're a founding member and you'd like to take advantage of this offer, please get in touch!
Anamchara Listening Circles
In group spiritual direction, we gather the wisdom of the community in a process of prayerful listening. This is a beautiful experience that offers deep nourishment for the journey. Let me know if you would like to be a part of a listening circle of 4 peoplecommitted to listening for God's presence and leading in your lives.
Find my Spiritual Director profile at one of these links:
Spiritual Directors International
Monthly Retreat Spaces for Bless My Feet Community
One of the joys of the Winter Retreats was getting to know some of the people involved in this community across the globe. I'd like to continue to offer paid subscribers a monthly hour-long Retreat Space (LIVE on Zoom) on the first Saturday of the month to reflect together and listen for what's unfolding in our lives. I will hold one this Saturday, the 4th of February, at 3pm Irish time. I'll spend the hour with whoever is present, no matter what the number – Zoom link will go out soon. If you've been considering becoming a paid subscriber, please join us! It's a beautiful group of fellow travelers!
Subscribed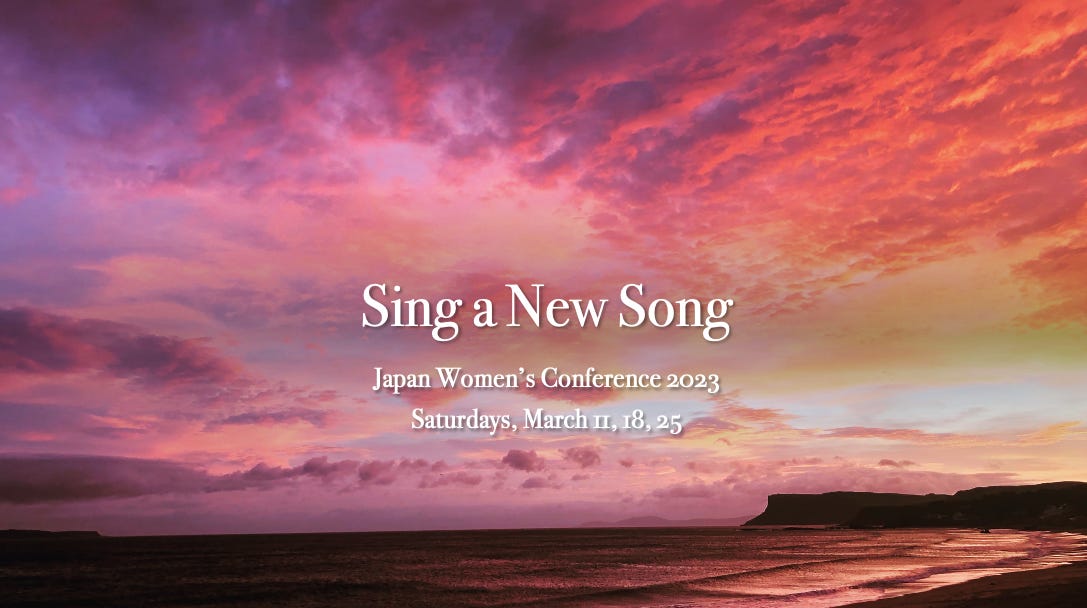 Retreats 
I'm so honored to be invited to be the keynote speaker at the Japan Women's Conference this year. It will be held online on Saturdays March 11th, 18th and 25th, 2023 – afternoon in Japan, morning in Ireland, and there will even be a North American option too. Anyone is welcome, whether of not you have a connection to Japan!
"Sing a new song!" the Psalms invite us. These are words we have heard many times, but they take on a new meaning as we emerge from these pandemic years. At this particular point in time, with each of us beginning a new chapter, we ask ourselves afresh – what is the new song we can sing in the coming season?

Read the full retreat description here
Retreats @ Corrymeela
There are upcoming weekend retreats at Corrymeela in February and April, and dates for October 2023, February 2024 will be released soon. I'm also offering monthly half-day retreats for anyone who would like to dip in to the retreat experience but aren't able to come for longer periods of time. Contact welcome@corrymeela.org for more information.
Up next:
*Silent Retreat 24-26 February 2023*
Resilient Spirit Retreat 21-23 April 2023
Resilient Spirit 5-Day Retreat/Pilgrimage April 2024
If a pilgrimage or extended retreat is something you're longing for, mark your calendars for mid April 2024. I will be announcing details on this soon, but it is sure to be an incredible, life-changing experience.
Winter Retreat Videos
All three hour-long retreat videos are available in the archives for paid subscribers to view at any time.
Befriending the Darkness Retreat Video
Longing for Light Retreat Video
Welcoming the Dawn Retreat Video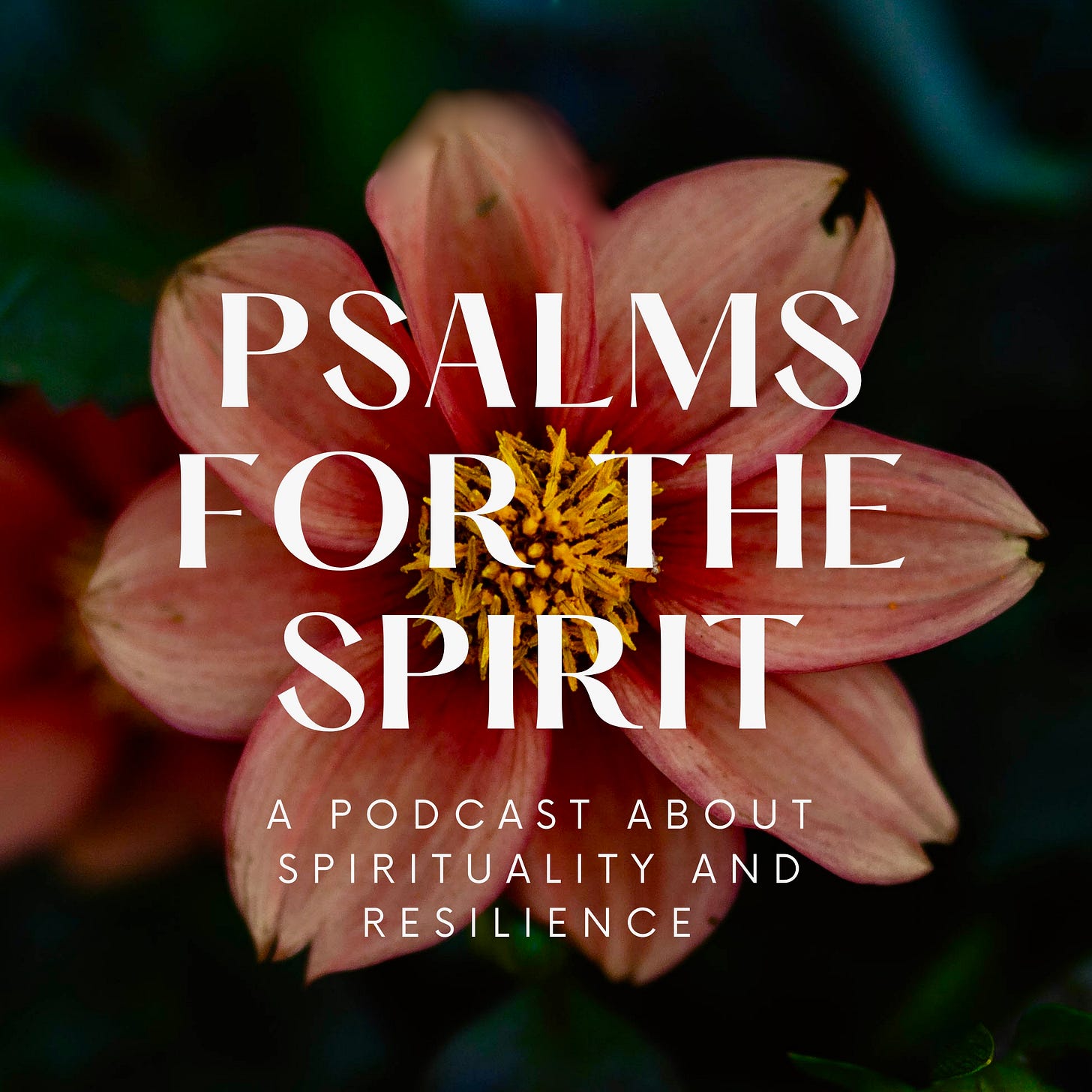 Podcast 
A new Psalms for the Spirit Episode will be out imminently!
In the meantime, subscribe to the Psalms for the Spirit newsletter and podcast page and listen back to the 20 episodes of Seasons 1 and 2.
Music
Here's an interview I did at Redbox Studios where we've recorded all the Celtic Psalms albums since 2013. Oonagh Derby of Redbox was such a warm interviewer, and it was a special opportunity to talk about the background to this music, which was initially recorded during the Covid summer of 2020, and to tell the story behind one song, Love and Mercy, which has been a favorite from the new album that we've already sung in many concerts and services. 
Our NEW ALBUM Celtic Psalms: May We Rise is available on DIGITAL PLATFORMS(Spotify, iTunes, Amazon, iTunes etc etc). Here it is on Spotify!https://open.spotify.com/embed/album/3mpciwqFmC18qaBfCNmPNP
Upcoming Live Performances
You can always check our concert page if you're wondering where we're performing next
On Sunday 29th Jan we performed at the Four Corners Festival in Belfast, N. Ireland. Listen to the event here!
Saturday 11 March 2023 7pm – Sligo Presbyterian Church, Ireland
Friday 2 June 2023 7:30pm – 10th Anniversary Concert, Belfast, N. Ireland
July 2023 – Hymn Society of United States and Canada, Montréal, Canada
GIA Scores
We are delighted that GIA Music Publications has published beautiful full scores of all four of our Celtic Psalms albums. You can purchase hard copy books or download the scores instantly from anywhere in the world. The score for our new album, May We Rise, will be released very soon.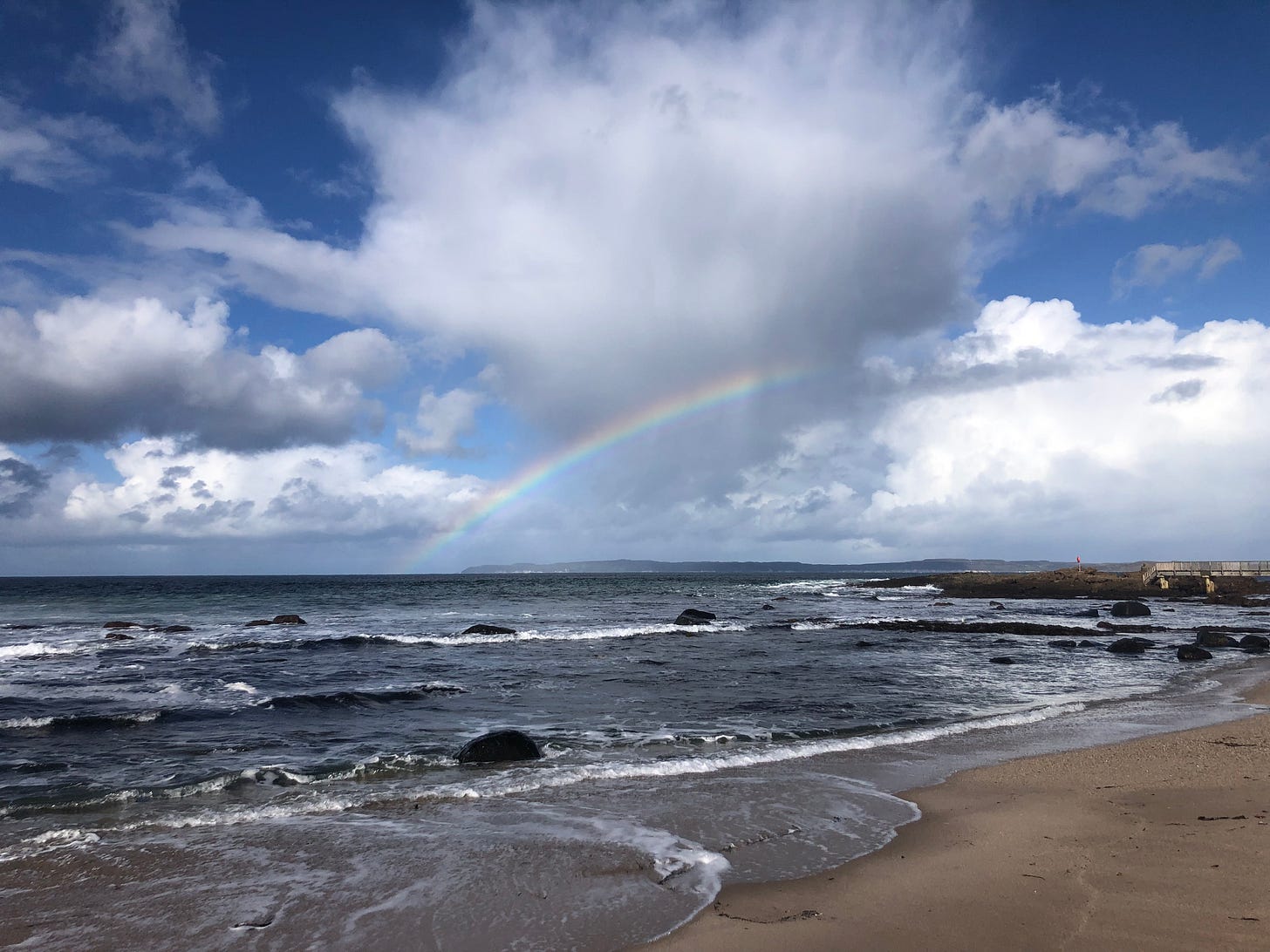 Leave a Comment! 
If these reflections spark a thought, please share! Press the button below and leave a comment for other Bless My Feet readers to read. This helps us build community. I'd love to hear, too! Just press this button.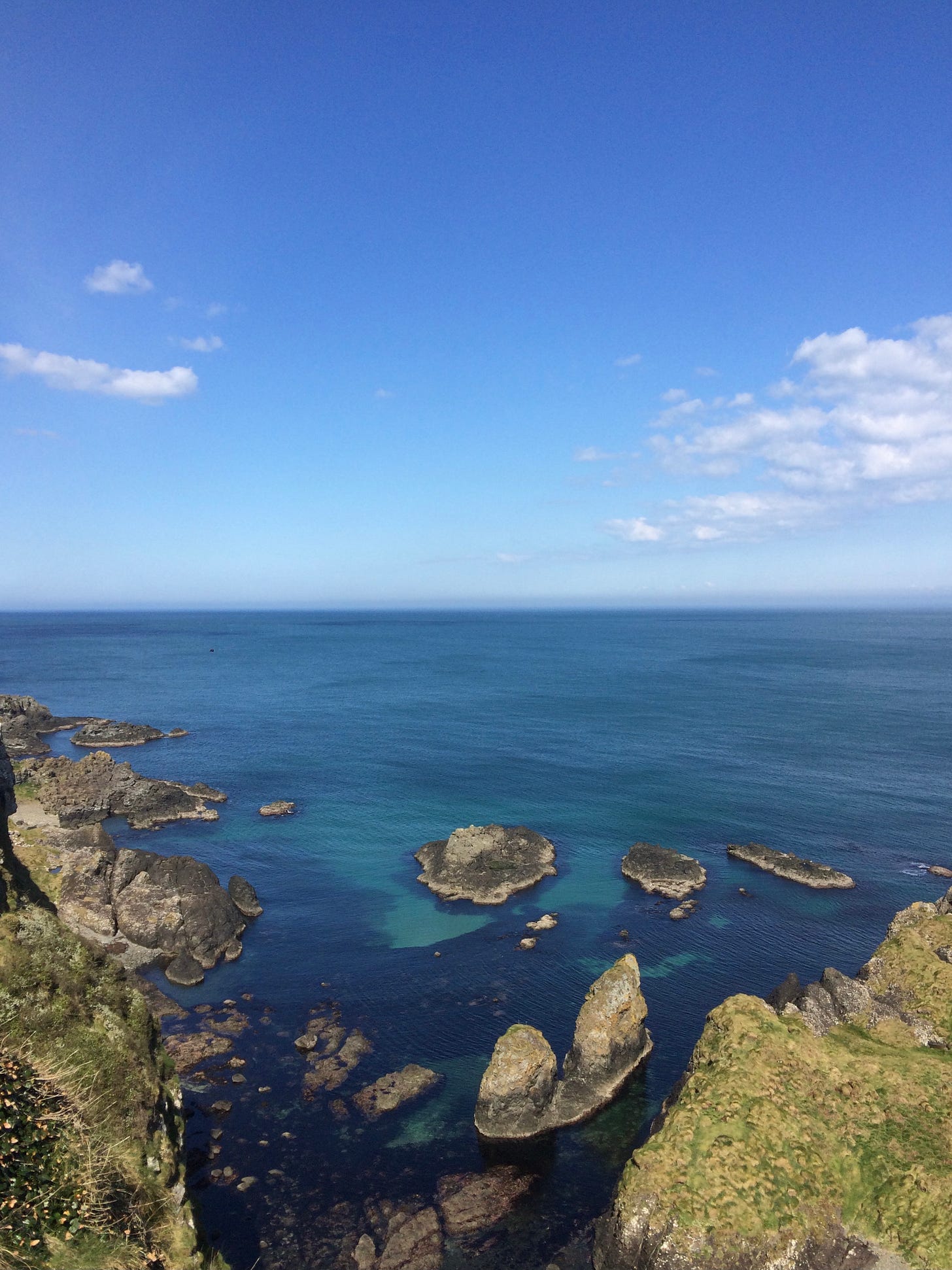 Blessing for Our Journey
May the God of the day
and the God of the night
awaken us to a brightening world
of creativity and activity
of productivity and possibility,
and then lull us back into the darkening world
of rest and replenishment
of simply being
with nothing that can or should be done.
May we move in those
God-given rhythms
knowing that both are good
that it is good
that we are good –
whole and loved,
when we lie down to rest
and when we wake to
morning's light.
Amen